<2016/09/5-Easy-Ways-to-Make-Your-Bathroom-Look-Modern-and-Elegant.jpg">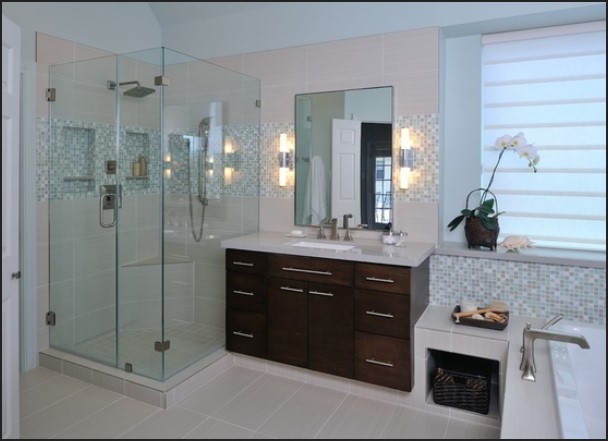 Is it time to remodel your bathroom? A modern bathroom can also look far more elegant with a few simple changes. Here are five easy ways to accomplish your modern and elegant look.
Get a Bathroom Vanity
The first step is to invest in a bathroom vanity. Bathroom vanities come in a variety of shapes, sizes and colors, making it very easy to add them into bathrooms of sizes. Light colored cabinets with darker countertops bring out a more elegant feel, or you can opt for white everywhere.
Use a Stool
Pop a stool with bathroom vanities to add a little extra elegance. You can opt for wooden or metal stools for a more modern style. Wooden options will help with the touch of elegance, especially with cushioned bases.
Add a Large Mirror
Nothing speaks elegance than large mirrors. Framed ones are even better. To keep the modern feel, opt for metallic frames or jeweled styles. Portrait and landscape sitting mirrors can work, but it will depend on the length and height of the wall. Higher walls need portrait mirrors and vice versa.
Have Rustic Storage
Get a few straw-style baskets for your storage needs on the vanity. These work exceptionally well with white wooden bathroom vanities. You can pull out the baskets to reach for your makeup, cleaning items and even towels.
Give the Bathroom a Fresh Coat
It's time to change the color of your bathroom to bring it up to date. Try a fresh coat or two of white. You could focus on a patterned wallpaper for the section around bathroom vanities and mirrors.
The above five tips are all extremely easy and affordable to implement. You'll not only get a modern style but also a touch of elegance, whatever the style or shape of the room.