Tag Archives:
remodelling
It may be tempting to manage an office remodelling project on your own, but there are many reasons why working with a leading design and fitout team is the right choice to make. Many businesses choose to go it alone, but by doing so they miss out on a myriad of great benefits, like:
Benefiting from the expertise that an experience interior designer brings to workplace fitout projects
Missing out on the design and fitout company's relationship with suppliers and the opportunity to enjoy savings on furnishings, etc.
Missing the opportunity to create a workplace that establishes the business as an employer of choice
If you're considering an office remodelling project that will deliver a great range of benefits, which includes these and many more, like the opportunity to make a great impression on clients and other visitors to your workplace, then you need to source a great design and fitout team, like London's Saracen Interiors, to work with. Doing so will make a great difference to the outcome of the project.
They Have the Experience and Knowledge
Let's face it, how many business professionals know much about interior design? The answer, as you know well, is not that many at all. While most of us can look at a workplace and say that one works and that one doesn't because we've worked in such environments for years, that doesn't mean that we're actually capable of creating a great place to work. What's more, if you get things wrong and have to make changes later, that costs more money which increases the overall cost of the project.
They Have the Industry Connections
This is something that many businesses overlook when engaging in office remodelling, however, it's an important factor that can make a significant difference to the outcome of the project. As interior designers and fitout companies work with a variety of suppliers, they can not only increase the options that you have when selecting furniture, IT systems, etc., but also help to make procuring those essential items more cost-effective and affordable for your business organisation. That can play a major role in helping you to keep the cost of the project down and reduce your overheads.
They Can Help to Minimise Disruptions
This is yet another very important aspect of office remodelling projects that management in many business organisations tends to overlook, though it's one that no business can afford to because any disruptions to business operations mean money lost. What's more, disruptions to your business operations may also make your clients wonder why they're doing business with you if you aren't able to professionally cater for their needs during the project.
In conclusion, all business organisations, regardless of what they do and how successful they are, need to work with a design and fitout team when remodelling their places of work. As discussed throughout this article, there's so much at stake, including a loss of revenue and damage to business reputation, so no business can leave things to chance. Take note of the points made here to make the right decisions about your upcoming office renovation project.
Prior to starting any major renovation work in the bathroom, first make sure you've studied a wide range of bathroom remodelling designs and identified one suited to your property, and the preferences and requirements of everybody living in it. The likes of home interior magazines will often feature amazing luxury bathroom designs that are incredible to look at, but ones which are frequently contained in monumental spaces that you may not have access to. That said, many bathroom designs can be replicated on a smaller scale to fit a specific home, but be wary of basing your main design principles on an image shown in a book or magazine. Elements of the picture, from its overall size to featured fixtures and more, can be misleading, and you'll struggle to achieve the same results if attempting to copy the design for your bathroom.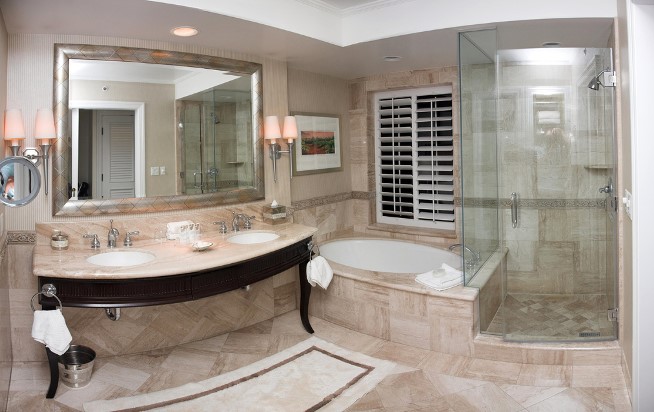 As aforementioned, published bathroom remodelling designs can often pose a problem in terms of the space they occupy, and in many cases it can be difficult to gauge whether or not such proposals would fit a certain size bathroom. It's all well and good including a Jacuzzi tub, a standard freestanding bath and futuristic multiple sink designs in your refurb plans, and there's no doubt these components would look good, but are they really feasible additions to a relatively compact space? Unless you can obtain details of an exact scale of a bathroom you like, avoid attempting to replicate its design exactly, and instead borrow your favourite elements that can realistically be implemented into your own.
And whilst smaller spaces will simply restrict certain design ideas, you can make use of advanced computer software to explore different options for the space you're working with. Such technology allows you to input your specific room dimensions and add different features to gain an idea of how your completed bathroom remodelling project will look.
Making the most of Design Service
Top level design software can create 3D images to give as accurate a representation as possible of what your bathroom will look like in a picture. But with that considered, you're looking at quite a hefty fee to purchase or even use a competent program of this nature, so using a design service could be a more cost-effective means to putting your plans on paper. It can be a difficult process producing unique bathroom remodelling designs to fit in spaces that aren't of the most straightforward shape, and utilising the expertise of a professional designer can prove an invaluable facet of the entire renovation operation, and ensure a much quicker and smoother overall remodelling process.
To begin your bathroom refurbishment, you'll initially need to be aware of the size of the room and the total floor space available, so you can gain an idea of what type of components will fit. You should also be sure to note the location of plumbing and electrical connections, unless you are planning to adjust these as part of the renovation. After this has been done, you can start plotting which items you will include, and where they will be situated, within your bathroom remodel. Hudson Reed offer a superb selection of luxury bathroom showers, radiators and faucets perfect for a re-designed bathroom in either modern or traditional style.
Another important factor to consider early on is the amount of people who will be using the bathroom on a day-to-day basis, and whether or not multiple people will be using it at the same time. As innocuous as they may seem, these simple first steps are vital to the overall success of your bathroom renovation.