If you have seen "Nighthawks" by Edward Hopper, the 1942 oil on canvas painting that shows American citizens in a downtown diner late at night, I am sure the thought has crossed your mind of wanting to join them and ordering a cup of Joe. The warm light shining out from the bar area looks so appealing and inviting. So why not try and recreate this feeling by creating a comfortable area in your kitchen to enjoy brunch or a glass of wine during a dinner party.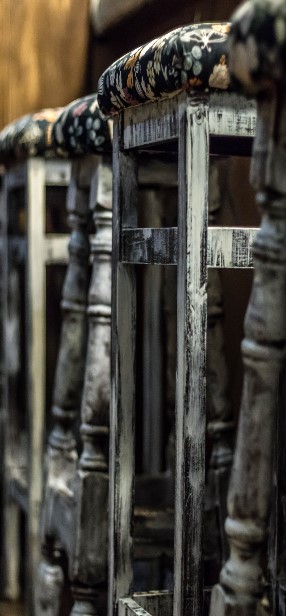 It is important to decorate this area with furniture that is functional and comfortable. A perfect way to create this space is by adding well-designed bar stools, alongside a stylish bar counter or a simple breakfast table. Below are some ideas on how to build a functional and trendy kitchen that harks back to 1950's styles.
Up-cycled / Eco Awareness
Up-cycled furniture, matched with steel fittings, creates a stunning kitchen interior that looks useful and well used. Equally, a solid wooden table with corresponding wooden stools will look striking. By placing these pieces of furniture in the middle of the space, a focal point will be created, which is fantastic for optimising the space you have in the kitchen but equally is very welcoming as a place for family meals or dinner parties. In the centre of the room, the arrangement acts as the focal point.
Industrial Edge
If you have created an industrial themed kitchen, stylish Bar Stools go very well in this style based on three primary materials — this being steel brick and wood. Straightforward and irregular seats will provide a dissimilarity with the modern equipment, alongside untouched brick walls will present an ideal background for this theme. Whereas adding a chunky rustic counter will produce a more traditional industrial style. Leather topped and modifiable chrome bar stools are beyond doubt classic designs that look remarkable all kitchens.
Vintage and Fantastic Plastics
To furnish a kitchen in a polished, ultra-modern style, think about using high-gloss furnishings with sleek plastic chairs. This form combines incredible functional and exciting design elements. Furthermore, the range of colours available is vast, allowing you to make focus features or tie-in with other decorative features. In a traditional kitchen, stylish classic bar stools from the 50′ and 60's can generate a startling contrast. For example, vintage styles from France combine retro styles with timeless design features.
It is not difficult to find unique furniture solutions at stores — quite often, it is even possible to find unusual, one of a kind models at a relatively reasonable price. So, you might be interested in this unique Bar Stools from Furniture in Fashion to shine in your Kitchen — most of these models have no match in other UK stores.