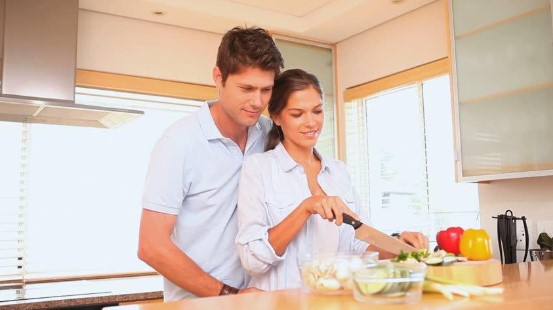 For many of us, spending time in the kitchen can be an annoyance. It's a place where we must make food after an already long day, or it's crowded with too many family members trying to do clashing activities. But a few simple upgrades and changes can transform your kitchen into a place that's fun, creative, and actually relaxing.
Investing a little extra money in essential tools will dramatically improve your cooking experience. Spending a bit more on tools and implements that are frequently used is worth it for the quality, longevity, and easing the task at hand. Buy a quality, sharp Chef's Knife and a sharpener, and learn proper chopping and cutting techniques. Get a nice, solid cutting board or chopping block to match. You'll be amazed at how much faster food preparation goes when you're not slicing with a dull paring knife with frustration for every ingredient.
Bare bones, basic cooking skills aremostly common sense – we're talking toasting bread – but you'll be thrilled with the range of things you can make when you take some time to learn proper cooking techniques that can be applied in so many ways.They'll become second nature quickly and new inspiration and unique ideas will spring up the more you practice them. You'll feel great making better meals that your family will love, and spending time in the kitchen will be more fun.
Make sure your kitchen is in proper working order by taking proper care of your drains and stopping dripping faucets. Call top quality local plumbing technicians like The Super Plumber who can guarantee satisfaction with service 7 days-a-week, 365 days-a-year, withupfront and transparent pricing. Upgrade your fixtures like installing a motion sensor faucet to help when your hands are greasy, buy a fridge with a cool, filtered water dispenser and ice machine, and enjoy a whisper-quiet dishwasher that never leaves crusted on leftovers.
Unnecessary clutter tends to build up in the kitchen.This gets in the way of your easy functioning and it also takes away storage space to keep your counters clear that you'll need for prepping. Cooking can be frustrating when there's stuff in the way, so get rid of duplicate implements and appliances – donate them to your local thrift store or charity. Go through that terrible drawer of mismatched napkins and stubby birthday candles every home has and toss them all away.
The kitchen isn't oft thought about when it comes to art, but it can be a great place to hang cute family pictures of past meals together, a personally-made wall calendar with photos for each month, or an attractive shelving unit to store fresh and dried herbs and fancy oil and vinegar bottles.Paint the walls unique colours that would otherwise be overwhelming in the bedroom or living room.
When things break down in the kitchen, call in the experts. There's little more frustrating than trying and failing to fiddle with the crowded pipes under the sink, only to have water go everywhere. Is the faucet dripping keeping you up at night? Plumbers can fix these things easily and keep them going for much longer than an amateur attempt can.
Lastly, if you're overcrowded in the kitchen – implement a rule where everyone else must stay out! Make it clear and reference it directly. Your upgraded and beautiful kitchen is for you, The Cook, to enjoy while you do your thing!