<2016/07/4-Types-of-Tile-Cutters-for-Bathroom-Tile.jpg">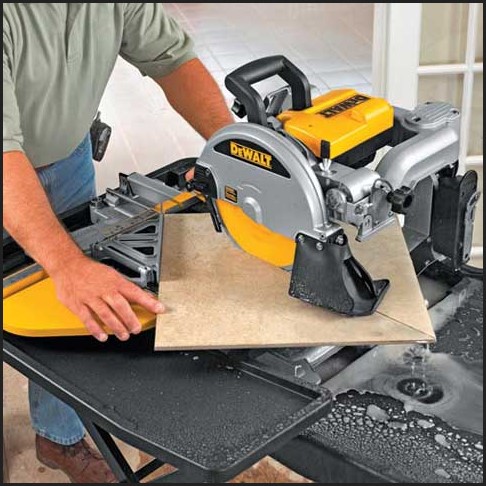 Tile cutters are some of the essential tools that you need for bathroom renovation projects that involve installing tiles on walls and floors. Thanks to technological advancement, there are hundreds of models that you can purchase online. Some of them are engineered for making custom and designer cuts while others can only make straight line cuts. The traditional ones used to run on batteries, but the modern ones rely on electricity to function.
Here is a brief outlook at the various bathroom tile cutters on the market today.
Handheld Wet Tile Cutters
As you can tell from the name, you will need to hold the cutter's handle when using it to cut tiles. It has a special water container that is supply water to the saw thereby preventing tile dust from been dispensed into the air.
These types of cutters are an ideal choice for medium sized projects such as tiling small bathrooms. If you intend to cut the tiles without using water, make sure that you wear a protective dust mask to avoiding inhaling the dust particles. You can also use it to make custom cuts on virtually all types of tiles except natural stone tiles.
Snap Cutters
These are an ideal choice for simple projects that involve small cuts. To derive maximum utility from them, you need to place the tile on the machine and move the scoring wheel on the tile's surface to make the cut.
These types of cutters are an ideal choice for projects such as cutting tiles for use around the window ledges of your bathroom and other simple projects that do not require high accuracy cuts. When shopping, it is recommended to choose one that has the ability to cut an entire tile in one shot to get the best results. They work best on tiles that are made from weak materials such as ceramic as the blade cannot cut hard surfaces. It is also recommended to press the tile against a wall or hold it under a baseboard to get straight cuts.
However, if you want smooth and precise cuts, choose a snap or rail cutter that has steel rails that are reinforced with chrome plates or wheels that are coated with titanium.
Overhead Motor Wet Cutter
They are the largest cutters in the market and are ideal for large-scale projects that require precision and exceptional tile cutting skills. You will be required to assemble the cutter on its stand or work table before using it. To make accurate cuts, it is prudent to purchase one that has laser lights to guide you. In addition, you should choose one that has a fresh water delivery system connected to the cutting wheel to get better cuts and prevent release of tile dust into the atmosphere.
Tabletop Wet Tile Saw
Just like the overhead motor wet cutter, this one is suitable for large-scale projects that require you to input or feed large pieces of tiles into the cutting wheel. The best have a drain plug that is strategically positioned at the bottom to dispose water.
Purchase any of these tile cutters from an accredited store to get value for your money. More importantly, make sure you heed to the instructions provided by the manufacturer to avoid accidents.