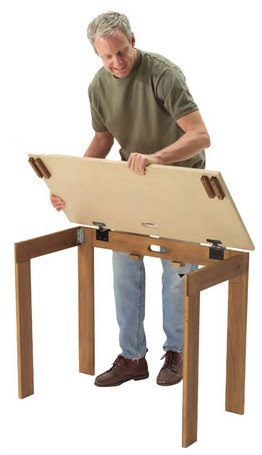 If you're looking for folding or portable workbenches, this best Portable and Folding workbench reviews-Buying Guide will sort it out. The sheer number of options on the market often makes it difficult for us to make a decision. Then there is this belief that folding or portable workbenches are not as solid as the traditional ones. This article aims to review some of the best compact workbenches on the market to help you get started.
Keter Folding Compact Workbench Work Table with Clamps
Who says folding workbench is the least sturdy of them all? This workbench is the best proof that solid folding workbench exists. Now only is it mighty strong and highly durable, it's also incredibly versatile. Keter Folding Compact Workbench has an impressive structure with steel bench legs and 12-inch clamps. With this structure, the compact workbench can hold up weight of more than 500kg.
Being a portable workbench, it does not require space as it can be folded and stored someplace else. Manufactured with such close observation, this workbench is constructed using  highly durable polypropylene resin. Making it resistant to extreme weather and water. For the price, you cannot really beat its quality and durability. Read on for more options featured on this best Portable and Folding workbench reviews-Buying Guide.
Keter Folding Compact Adjustable Workbench
We are sure that by now you are already aware of the reputation of Keter Folding Workbench models. The brand has been widely recognized as the best manufacturer of folding workbenches. Despite their compact nature, the strength it offers is undoubtedly through the roof. Compact, without sacrificing its durability and quality.
This particular model gives customers the ability to adjust the height of the workbench to better suit them. With 30.3-inch height, the workbench can be adjusted up to 34.2-inches. It also boasts easy setup. Extremely easy to the point users can put the whole unit together in less than 30-seconds. The folding workbench is secured with two, highly adjustable 12-inch clamps to hold everything in place.
This particular model is constructed using premium quality polypropylene resin, with aluminium legs. Its sturdy structure allows users to work on any project imaginable as it may hold up over 300kg weight. Not only that, this impressive compact workbench is also equipped with a shelf situated underneath.
Black & Decker WM1000 Workmate Workbench
Clamping your tools to the board's surface can be a hassle, more so when you are trying to focus on your project. However, this particular workbench from Black & Decker clearly offers something that its competitors on the market do not. Yes, Black & Decker WM1000 Workmate boasts flexible clamps that makes the whole process easier and quicker.
Constructed with heavy gauge steel frame and bamboo surface, there is no doubt of its durability and convenience. With 670x450mm surface dimension and foldable design, this workbench is undoubtedly solid and durable. The only drawback that we can think of is the fact that the Black & Decker WM1000 Workmate Workbench can only withstand 280kg. If you are in need for a feature-rich workbench for light to medium projects, you should consider getting this particular model.
So which one of these best Portable and Folding workbench reviews-Buying Guide is suitable for you?