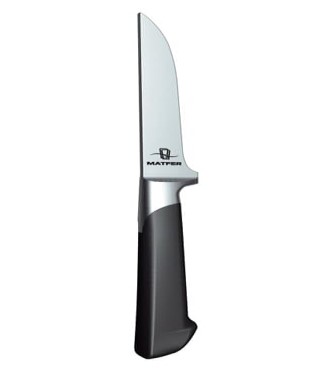 Before we look at how to buy the best boning knife, let's look at what a boning knife actually is. If you are certain you know what a boning knife is then you jump to the third paragraph of my article.
So what is a boning knife used for? a boning knife is used for removing bones from meat or meat from bones. Mark you, it is not used in cutting through bones. If you want a knife that cuts through bones then you should go for a clever. A boning knife is the knife that most butchers use. with it they can make neat cuts from the carcass of animals leaving the bones with almost no meat at all. With the boning knifes, the butchers an as well remove bones from meat. Now that you know what a boning knife is and what it does, let us look at how to buy the best one by looking at its features and specifications.
A boning knife should be very sharp
It is a necessary requirement for your boning knife to have a very shape cutting edge. Without a sharp blade, making neat cuts that are very close to the bones will be impossible. A blunt knife will make you live chunks of meat on the bones and will require too much energy when cutting. A cutting angle pre-sharpened to 11 to 18 degrees will be good for a boning knife.
A boning knife should have a heavier handle
Most knives should have an even weight right from the handle to the blade but this should not be the case for boning knives. A boning knife should work with tact and precision and it is a relatively small knife so it should have a handle that is a little heavier than the blade. The heavier blade will enhance your control as you cut through the pieces making precise cuts than you would with a knife that has a lighter handle.