Doors are like the face of the house. They are about the first property features visitors take note of as they approach your house. It is understandable, therefore, that you'd want your doors to combine beauty, practicability and elegance all at once as much as possible. They add or detract from the overall "impression" of your personality and the look of your house.
In addition to the aesthetics values, the doors in a structure are also part of its overall security. Therefore, choosing the right door to reflect your taste is as important as choosing the clothes you wear. This choice naturally means there are a lot of options out there which can be confusing to choose from.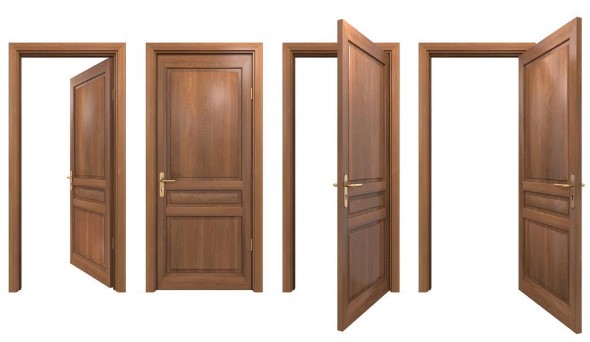 The interior doors add and exude to the appeal of the house and this should be chosen based on which part of the house the door is to be fixed. Attention also needs to be paid on the quality and durability of the doors and frames, which is why the brand trust is also important.
Let us begin with the front door.
When Should You Consider Replacing Your Front Door?
The older a door gets, the more it loses its insulating capabilities. Modern doors are more efficient in maintaining insulation than older doors. When your front door begins to leak hot or cold air in and out of the house, it is time to consider changing it. This can save you some money on energy bills by reducing the amount of energy you might spend in heating or cooling your house.
Replacing your front door is one of the ways of improving your home security.
Updating old and worn out styles to modern styles is another popular reason for replacing your front door. It is one of the first things people notice. Updating to a more modern style will add to the overall look and feel of your house.
Changing to a more durable and secure material is an important reason to replace your front door. In doing this you should consider getting locks that can withstand bumping. Breaking and entering through the bumping technique is one of the security concerns you should try to take care of.
Choosing the Material
After deciding that your front door needs to be replaced and why you want it replaced, it's now time to decide on the material and design. While considering your budget, you also want to consider security. Here are the different materials you can choose from.
Steel
This is among the most popular option for obvious reasons. It is cheaper and can offer the same security and weather resistance of pricier fibre glass and wood doors. Steel doors are energy efficient because of the interior features and design which is filled with insulating foam. However, should the door suffer a dent, it's not an easy thing to fix. A scratch that breaches the paint can lead to rusting if the painting is not covered promptly. Himmels offers commercial steel doors with glass in their New Orleans headquarters if you're looking for something different for your office.
2 .Fiberglass
These doors are more resistant to dents, and can resist wear and tear better than steel and aluminum doors. They require little maintenance and can be painted. Giving some of them an edge treatment can make them look like real wood. However, they can crack if they suffer severe impact.
Aluminum
This has the advantage of a baked-on enamel finish that won't require repainting. It's rust-resistant, but the disadvantage of this material is that they can dent just like steel doors. They are more expensive because they are usually built to order.
Wood
This can offer the best of both worlds depending on the material. Materials can range from mahogany to walnut and teak. It is the traditionalist choice. These natural materials can even offer better weather resistance than man made materials.
They don't dent easily and scratches are easy to fix. However, they can be expensive to maintain. They require regular painting and treatment to prevent termite infestation and damage, and also don't offer as much insulation as man-made materials which have extra insulating material.
Interior Doors
After taking care of your front door, it's time to consider your interior doors; these include your bedroom and bathroom doors. They give a cozy feel to your home and the design plays a role to the feel your home gives off.
First you'd need to go through your house to determine how many doors you would be needing and what their function would be. This would help you decide which door to choose for each section.
Here are some types of interior doors to choose from.
Sliding doors
You can use this in areas that have wide openings such as closets and bathrooms. They don't swing, which means you don't have to worry about placing chairs near them. These doors however, provide access to only one half of the door at a time.
Passage doors
They are the most commonly used doors in homes. They can swing open or close, and are fixed on about two or more hinges depending on the size of the door.
Double acting doors
They are bidirectional doors that open with a push. They are ideal for fast to and fro movements, and can be used in kitchens where you won't want to touch the door with your hands while you're cooking.
If you're looking for more options, you can always consult Himmels Architectural Door & Hardware for a wide array of doors that will go well with your home's interior.
Things to Avoid
Home owners make the mistake of not carrying out proper research before buying or choosing doors. At the end, many individuals end up buying the wrong size, style or material of doors for their home, office or industrial space. That's why, in addition to selecting the right door for your property, you should also go for a trusted and reliable brand. Houses are an important part of our lives. Value should be placed on its security and beauty.