<2016/08/The-Dramatic-and-Versatile-Look-of-Brick-Porcelain-Tile.png">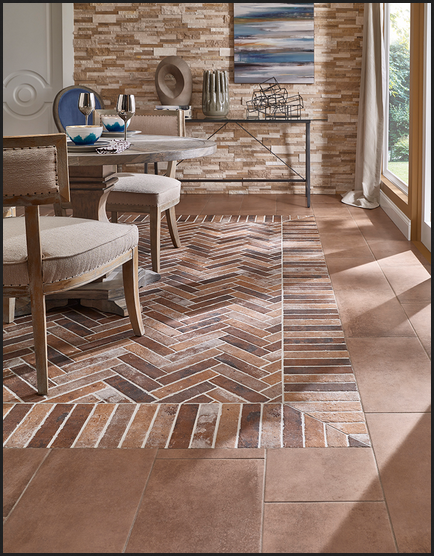 Do you want the look of brick without all of the hassle? Well, you're in luck! With brick porcelain tile, you can enjoy the look of brick on all parts of your house without being troubled by the niggling installation and maintenance of bricks. With the tiles, your floor, wall, and backsplash can now sport the exotic look of brick while still being easy to clean and maintain. Your house will look awesome regardless of whether it uses traditional or modern design.
The look of brick in the interior of a house is preferred especially because of its timelessness and exoticism. The look of brick is also considered so versatile that it suitable for both rustic and contemporary home design styles. Homeowners and home designers normally create this look by installing real bricks on the preferred parts of a house. Wall that is left unfinished is itself a piece of décor that exhibits the elegant look of the exposed bricks. Wall like this is often decorated with paint, mirror, painting, and other types of décor. Bricks can also be installed on floor as an alternative for ordinary floor tiles.
Despite the attractive and versatile look of bricks, they are fragile and tend to make the room dirty. One reason why brick wall needs to be finished is to prevent the bricks from falling apart and making the room dirty. Exposed bricks are neither durable nor easy to clean. Brick porcelain tile provides solution to this problem.
Brick porcelain tiles not only have brick prints, but also brick textures that give the three-dimensional impression of real bricks. Porcelain tiles also have attractive patina that makes the look of the bricks even more dramatic. With brick porcelain tiles installed on your floor, wall and backsplash, you can enjoy both the rustic look of the bricks and the sleek and stylish look of the porcelain.
Brick porcelain tile is available in a large assortment of styles and patterns, so the hardest task that you have to accomplish is to pick a style that is the best for your home. There are several ways to make this task easier to do. First, you can refer to the general rules of choosing home décor. In terms of color, for example, basic rules for choosing wall and floor color apply when you want to choose a specific color for the tile. Bright and clean colors are suitable for modern home whereas earth colors are for rustic home. You can pick porcelain tile with any color that you like, so understanding about color philosophy in home design is important.
You can also check all great ideas that are available in home design magazines and websites. Look into any interior design samples that exhibit brick floor, wall or backsplash and pick one that is the most applicable in your home. By doing a simple research like this, you can expect to find the best brick porcelain tile for your home in no time. If you still need advices to choose the best tile for your home, assistance provided by the tile vendor or an interior designer is always available.