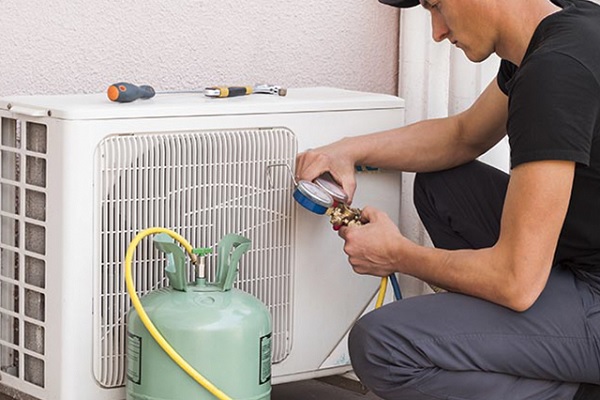 Around 75% of American homes have air conditioners, which makes the AC unit one of the most common equipment in the U.S. The scorching heat in summer can be unbearable, a reason enough to make homeowners invest significant sums on efficient air conditioning. A reliable air conditioning system is not an option, it's a real necessity.
To keep your indoors comfortable, your AC must be functional and efficient, especially during summer and fall. Nonetheless, there are times when your AC may not be functioning properly, and at times it isn't easy to pinpoint the reason. Below are some of the various reasons your A/C isn't cooling your home properly and what to do about it.
The Refrigerant Is Low or Leaking 
Your AC unit uses a chemical known as a refrigerant to transfer heat from inside your home to the outdoor space. If the refrigerant level is low, your air conditioner may fail to properly cool the air in your home. The low refrigerant level is mainly caused by undercharging the AC during installation. Nevertheless, you should first check for any leaks before adding more refrigerant. In case of a leak, it's advisable to consult a professional AC technician right away. Although rare, an HVAC refrigerant leak can be harmful to the environment in addition to causing health problems.
Lack of Proper Maintenance of the Outdoor Unit
Once the indoor unit absorbs the heat around your house, it then transfers the heat to the outdoor unit. If the outdoor/condenser is blocked or dirty, the built-up heat may not be expelled efficiently. You should regularly check the condition of your condenser just like you do the indoor unit.
Remove branches, dirt, mud, and any leaves that could clog the unit and ensure that it's sitting on an even surface to prevent overworking. If the AC unit still doesn't work after the maintenance, seek an expert's opinion.
Tripped Circuit Breaker on the Outdoor Unit 
If your AC unit blows warm air only or fails to switch on at all, your circuit breaker could have tripped. You may also be experiencing a blown fuse. Check your fuse and electrical panel and simply reset it.
Faulty Fans
Your AC system has a fan that blows air over the outdoor unit to expel built-up heat outside, and another that blows air over your indoor unit to cool your home. Either of these fans could stop working due to lack of lubrication, a faulty motor, dirt, debris, and worn-out belts, gradually causing poor airflow. Learn to turn off your AC from time to time even during extreme heat to avoid overworking your fan and capacitor. If you ignore the problem for too long, it can cause compressor failure and eventually destroy your air conditioner.
Warm Window
If you've placed your AC unit at the window where there's direct sunlight, it'll be harder to cool your home. Try to move your air conditioner to a less sunny spot. However, if you can't move it, keep your shades and curtains down to block the sunlight and prevent your home from overheating. Else, check the seals to ensure that cool air isn't leaking out and hot air from the outside isn't seeping in. If that's the case, you'll need to reseal your unit with weather stripping.
Your AC System is Old 
Like all electrical and mechanical items in your home, the air conditioner has a premeditated lifespan. As it gets older, the more problems arise and the less efficient it becomes. Older units tend to use more energy and effort to cool the home.
While regular maintenance can help extend your AC's lifespan, it'll get to a point where you'll need to replace it to improve energy consumption and efficiency. Whereas you can easily conduct your own research when purchasing a new AC unit, you'll still need expert help during installation and proper maintenance.
Living in many parts of the U.S would be extremely distressing without an efficient AC unit. While the above reasons can help fix most cooling issues you may encounter, it's sometimes more practical to seek professional help. If your unit doesn't work as expected even after troubleshooting, contact an HVAC expert to pinpoint the exact problem and provide effective solutions.