<2017/04/Thunderbird-Custom-Media-Walls-and-Entertainment-Centers.jpg">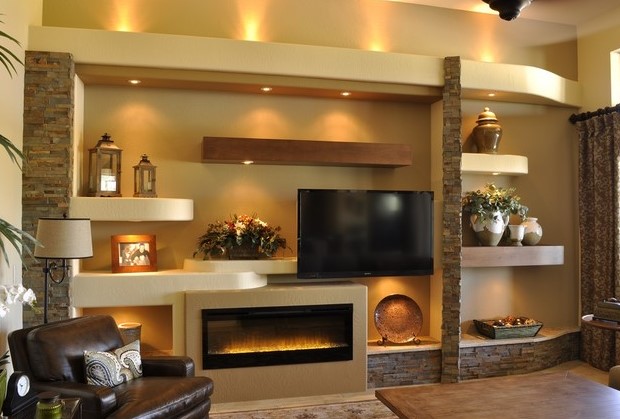 Built-in audio and video entertainment give a house feel of permanence and solidity. This gives character and variety to the house interior as well as reduces clutter. Custom dry walls also make the wall appears thicker and the house feels more substantial. There are number designs of built-in for your house, but the most useful are the media wall. The custom media wall helps keep the clutter around TV in order. Paired the media wall with bookshelves gives you the chic look and chance to display books and entertainment.
Custom media wall also serves as focal point similar to the fire place and clarifying the furniture arrangements. It is simply warm up the living space. If you are looking for a custom media wall contractor, one best option is the Thunderbird Custom Design.
What is thunderbird wall?
Thunderbird wall is a kind of media wall which blends well with the architectural style. It is combined with various textured walls and finishes to create the main point in the house. The thunderbird wall stands as unique design, anti-mainstream, and different from the traditional house. To meet the purpose, we use different materials and element to create numerous design styles which blend perfectly to your unique house. We also love to add the "wow" factor for every project to make your living space appear differently from the ordinary and show the unique style.
Why are we different?
The Thunderbird Custom Design has been in the business since April 2005. We have been serving people with the best drywall design for more than 11 years. With years of experience, we like to say that we are different from other drywall companies. This is because we are a one stop shop where we design as well as build. Our customers tend to prefer one same person to design, build, and hook up the equipment, so, they can just sit back and relax while enjoying the new wall.
Our Custom Thunderbird Media Walls proudly announce that we only hire the best people which are a true craftsman and most care to our clients' house. Our sales and office staffs are knowledgeable and willing to help to choose colors and material finish. We put the schedule on the front line. Last but not least, we are the leading when it comes to ideas and designs. That is why we use almost any materials to get the unique look for the living space.
What do we offer?
As our name suggest, we focus on building the entertainment centers for home use. Our main product is the Thunderbird Wall but we also available to build a wood entertainment and traditional media walls. The best thing of all we provide best service sales and installation of the video and audio products.
Warranty – for every project, we provide 2 years of warranty for materials and labor. However, we always evaluate and handle customers' rare complaints even if it beyond the warranty period. In short, we do not hide anything from the paper. Whether it is small or big fix, we are there to get the spot fix. Also, we are works for your warranty issues for audio and video stuff. We never leave a customer behind.
Advice – before starting the project, our design consultants will meet the client first. This helps our designers to get a good feel of the house as well as the style and personality. We show the portfolio to the clients including the functional style and needs to give customers idea. If you already have ideas, our designer will gladly welcome it.
Smooth finish – we believe that smooth finish of drywall is everything. Our staff will make sure that there is no sign of screw holes as well as other noticeable cracks, dents, or markings.
Reference – we understand that customers value reference and referral. The fact is most of our job are the result of referral for our clients. Feel free to ask for testimonials from previous customers since we have plenty thank you letter. You can also check online for reference as we proudly listed as A+ in BBB. Also, you visit our website to see the pictures of our previous works. We always show the portfolio for every customer.