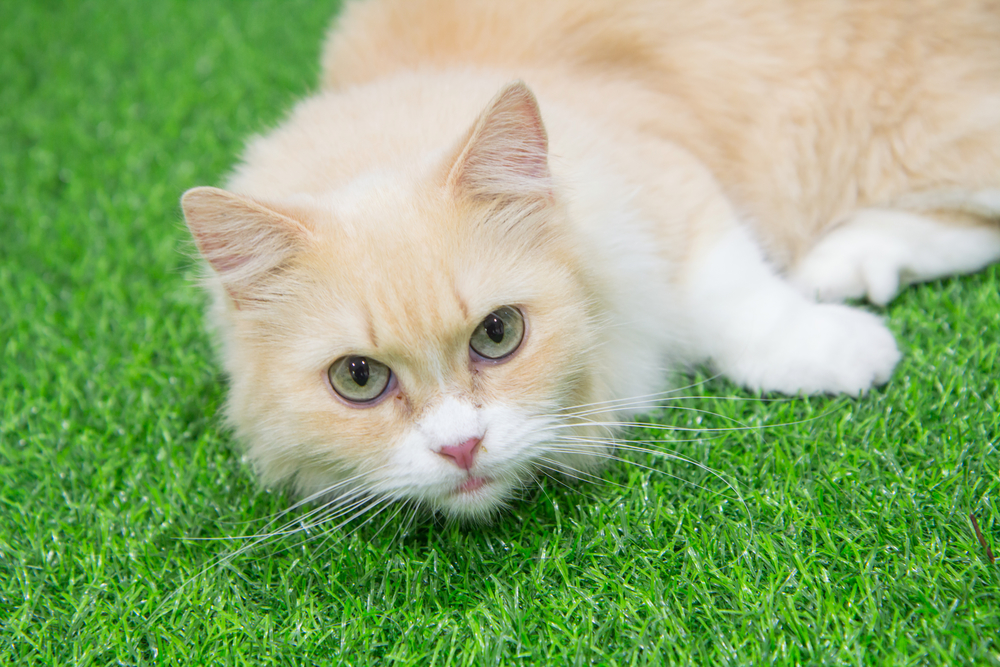 Pets can make a real mess out of your lawn. Even if they aren't particularly prone to digging or running in circles around the same area, they can still make a mess out of the lawn when nature calls. Using the lawn as their own port-a-potty can be troublesome, as natural lawns need some time to drain liquids.
On the other hand, artificial turf is durable and requires low maintenance to look absolutely stunning. While most pet owners are reluctant to add a synthetic lawn because of the concern for their four-legged friends, many choose to have an artificial turf in their backyard because they are very pet-friendly.
Pet owners love this landscaping alternative for many reasons. An artificial turf will save you both money and time on maintenance, and you'll never have to worry about weeds, mowing, fertilizing or watering your lawn ever again.
An artificial turf is a soft, lush alternative to its natural counterpart that looks great any time of day during the whole year. This way you can have a lush, green lawn in the summer without the fear the grass will dry as well as during winter, regardless of snow and ice.
Is Synthetic Lawn Safe for Pets?
One of the biggest worries pet owners have is whether artificial turf is safe for their furry friends. This comes from several studies conducted prior to 2008 that linked artificial turf with lead poisoning.
However, since 2008 all the major artificial lawn manufacturers made an agreement with the Center for Environmental Health through the Consumer Product Safety Improvement Act, limiting the amount of lead in artificial turf to 300 ppm (parts per million).
Therefore, as long as you choose a reputable, ethical company like Ralco Landscapes & Maintenance you won't have to worry about your pets being in danger from lead poisoning.
Another reason to partner with a reliable company is the fact that if not installed properly, artificial turf could be a tripping hazard. If the installer does not sculpt the underlying surface bumps could form on the turf.
Bacteria and Chemicals
As you probably know, taking care of natural lawns involves a lot of chemicals like pesticides, herbicides and fertilizers. There are organic alternatives, but they tend to be quite expensive and not available everywhere.
If your pets love to chew on grass, they could be in serious danger of poisoning. Another major concern is bacterial buildup in the areas where your pets often relieve themselves. These areas can harbor dangerous bacteria that can be impossible to get rid of.
With artificial lawns, these issues are of no concern since no chemicals are involved in the maintenance of the artificial turf. The same goes for bacterial buildup as they are layered with a special anti-microbial layer.
Maintenance
We already discussed the fact that you won't have to use chemicals to take care of your artificial turf. When it comes to pet waste removal, you can use your favorite pet waste removal product on artificial turf or just remove the waste with a plastic bag.
Finally, you can use water to remove any waste from a particular area. The fact that artificial turf does not absorb waste like natural turf reduces the risk of bacteria spreading. It also means that you will never have to worry about the unpleasant smells again.
An artificial turf means less maintenance for your home as well since your pets won't rush in with muddy paws wreaking havoc on your expensive carpet. It is also much more hygienic for your pets. Their coat will also stay clean and won't have to be washed as often.
Last but not least, with an artificial turf you won't have to worry about ticks or fleas ever again, as these parasites don't find this alternative particularly appealing.
To contact RALCO Landscapes & Maintenance:
3443 Camino del Rio S #203, San Diego, CA 92108, USA
619-259-5553