KIMO 20V Cordless Leaf Blower Review, Compact and Powerful Leaf Blower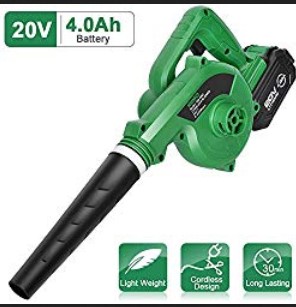 Having one portable or cordless leaf blower is necessary for every home. The tool doesn't only help you to blow and clean leaves. You also can use it for other purposes, such as clean dust; clean your car engine and many more. However, you can only get all those benefits by using the best leaf blower. In this case, KIMO 20V cordless leaf blower is the best choice. Below, we have kimo cordless leaf blower review for your reference.
KIMO 20V Design
With just 11 x 6 x 7 inch size, this is one of the smallest leaf blowers you can find on the market. The handle and the button are placed in the right position. It allows you to carry it and use it much easier. The weight is only 4.4 lbs, which supports its portability advantages.
Performance
The 20-volt motor in it produces 20000 rpm power. It allows you to get high blowing power that improves your cleaning process effectiveness. You can easily and quickly remove leaves or dust from any places without a problem.
This leaf blower also has quite a fast charging speed. You only need around 1 hour to charge it to its full capacity. And, with a fully-charged battery, you can use it for 30 minutes continuously. With just 30 minutes of usage, until the battery runs out, you can only use it for a small job. So, if you plan to get a leaf blower to clean your entire yard, this product isn't suitable for that job.
Verdict
KIMO 20V is indeed one of the most useful leaf blowers you can have. It easy to carry around and its powerful blowing from its compact size help you to deal with many jobs. But, if you want to do a bigger job, you may need to find another product. That's all our kimo cordless leaf blower review.