Let the Professionals Maintain Your Trees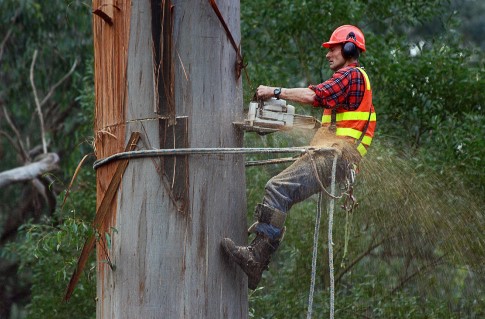 It is sad that people assume they can do a great work compared to us professionals. Some people fail to maintain their trees until disaster strikes and when they realize that they are in deep trouble they desperately call us to fix it.
This is a dangerous season, the wind is wild and full of rage. They know no peace and they leave a trail of destruction where they pass. It is for this reason that we are 24X7 tree service professionals ready to serve you when disaster strikes.
So what are the scenarios that qualify for an emergency tree removal service in Minneapolis area?
A Tree on Your House
This is defiantly an emergency. Trees are known to be more than 10 tones depending on their size and age. This is enough to completely destroy your house and live you with expensive repairs.
A Tree Hanging on Wire Lines
I once witnessed children playing with a tree that was hanging on live wire lines. This sent shivers down my spine as the children had no idea of the dangers they were subjecting themselves to.
Falling Debris that destroys your Roof and Windows
Some debris from dead trees are made up of branches as heavy as two men and this is enough to damage your roof and windows.
Tree Trimming
As the best professionals for tree trimming in twin city MN, you can rest assured that you will impress your friends this coming summer. Tree trimming is exclusively used to landscape so as to create a particular design that is unique and attractive.
Why a professional?
Professionals are able to identify tree diseases that could kill your trees and at the same time recommend a tree treatment for them. Some tree diseases like fungal tree disease can only be identified by a specialist.
Google Map: