Basic Rules in Designing Outdoor Spaces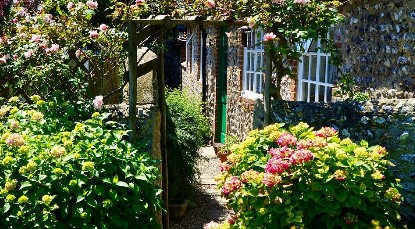 Having the luxury of having an outdoor space on your property is an excellent playground for DIY homemakers. Having a stretch of greenery just outside your home can immediately turn a stressful urban life into a meditative trip back to nature. But homeowners these days don't have that much time for dealing with the necessary groundwork of tending to a garden. Much of the motivation in turning an outdoor space into just a storage space is because they don't know how to start.
If you're lucky enough to have the time to spare and the space to use, then these few quick tips can help you in bringing some much-needed natural vibe to your home.
Some ground rules
Every homeowner knows that any home project comes with fundamental prerequisites such as building permits and budget limitations.  When it comes to dealing with designing an outdoor space, you should be aware of your area's pipe system so that you won't get into trouble by hitting pipes when excavating trenches for creating a base for a deck or a patio.
If you have the space to spare, don't be afraid to make the most out of designing paths for your garden. Pathways are ideally spaced at three to five feet wide for people to easily navigate through your backyard.
Utilising fencing
Fences aren't just for separating your property from your neighbour's, but also for segregating your outdoor areas. From your garden lot to your picnic area, fences together with paths from walkways can make for an excellent decorative feature for your garden.
Privacy screens are often used on lots that don't have any high walls for borders when it comes to the back or front yard. It's a security function that doubles as an aesthetic design for borders. The most common type in setting boundaries is using featheredge fencing or picket fences. You can also look for alternative fencing options such as having tall plants or shrubs that can create the same effect.
Before you start digging up your lot, it's best to browse pre-existing fencing designs from a website online so that you can scout out designs and colour palettes while being aware of your budget limitations.
Greenery
No outdoor landscape design would be complete without the inclusion of greenery. Plants aren't just for show since you can also use your garden for practical uses. Planting vine type plants such as tomatoes along trellises or bulbs in your fertilised garden plots can give you your home grown organic ingredients.
If you're using limited space, a smart way of going about growing plants is planting them using vertical spaces instead of flat areas. Hanging plants can be organised not just from the ceiling but also in a cabinet shelf-style which is equal parts adorable and efficient.
Whether you're dealing with vegetables, fruits, or flowering plants, you need to do the right amount of research to know how much space a plant needs to reach maturity.
Image: Pixabay.com