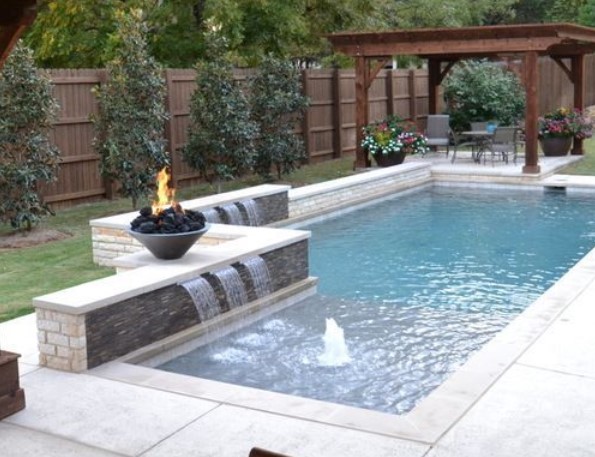 Is your inner designer thirsting for a new renovation project, but your piggy bank is squealing in protest? If your swimming area could use a little facelift, and you need to keep budget in mind, we've got some idea for you. Contrary to popular belief, you can add some dramatic flair to your entertainment space without spending an arm and a leg. What's more, some improvements will actually conserve dollars at the end of the day thanks to their energy-efficient features. With a minimal investment, you can transform an old, outdated pool into a modern oasis.
Salt Water
Not only is salt water a trendy addition to the contemporary swimming area, but it is much more eco-friendly. Salt water systems swap traditional chemical cleaning methods with the use of salt. Many pool owners are praising the use of salt as a substitute for chlorine as it is much less hard on their family and guest's eyes and skin. Installing a salt water system also means no more buying, handling, or storing of chlorine. This economical upgrade will preserve your hard-earned dollars because salt water pools are typically cheaper from a maintenance perspective.
Equipment Designed to Conserve Energy
From a more practical addition to your swimming space, you may want to opt for energy-efficient equipment, intended to make your pool inexpensive to operate. These features are new to the marketplace and have been rising in popularity because of their slew of benefits. From energy-saving filters and solar-powered lights to a varying-speed pump, this type of equipment was designed to consume less energy.
LED Lights
Basic pool lighting is a thing of the past. The new style taking the spotlight is LED lights, which are much more efficient energy-wise than conventional alternatives. While installation is a bit costlier, LED lights are a quick, affordable option for adding some artistic flair to an otherwise ordinary space. You can elect to install lights below water level or at any location around your outdoor sanctuary to create a vibrant pool area that's full of life.
Water Features
You can easily breathe new life into a bland pool area by installing water features like waterfalls or deck jets. Adding a touch of sound and motion to your swimming space is a great way to remodel your area without the costly price tag. There will be an extra cost to fuel the electricity of your new water feature, but when it comes to redesigning your pool on a budget, this is a great route to take.
Resurfacing Your Pool
Probably the most expensive of the aforementioned options, resurfacing your pool will instantly enhance the appearance of your entertainment space. Besides the aesthetically pleasing nature of a pool resurface, there are also health and functionality benefits as well. Over time, weathering will cause your pool to become dull and lackluster. Through resurfacing, you can replace cracked or worn-out areas that if untreated, could lead to more extensive damage. For style that exemplifies modern elegance, try an aggregate finish, which marries a myriad of colors via materials like stone or shells.
Author's short bio:
Authentic Plaster and tile was founded by Diane Pierce and her family 35 years ago in Texas. Their specialty ranges from simple remodels with pool surface, tile, coping to complete renovations by adding tan ledge, benches, water features and more. Also their own developed and manufactured pool surface material, Hydra Products, is warranted in-house and gives not only material warranty but also labor.