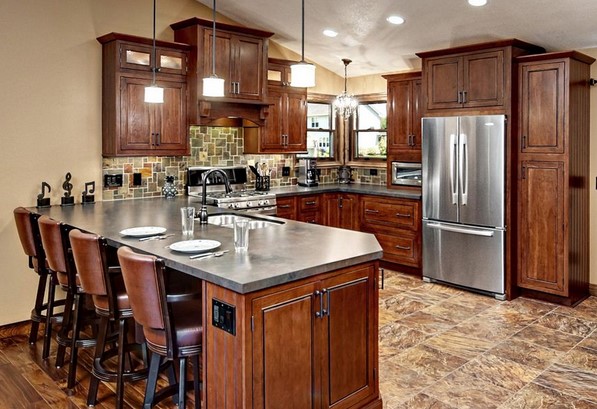 There's no understating the importance of the kitchen for any property. It's a very practical room, filled with all the appliances needed for food preparation and storage but it's often also a social space and one where we spend a lot of our time. A kitchen renovation can be a disruptive time so advanced design and planning is often the key to a successful project. If you work with an expert in kitchen design and installation, this will also make the process easier but what kind of questions will they ask you to consider?
Look At Flow Of The Room
One of the most important steps is to look at the flow of the room and how everyone will move from one spot to another. Most designers recommend that the cooking space should be at least 42 inches wide and 48 inches for two cooking devices. If you are adding kitchen islands or breakfast bars, you need to leave enough room around them to move about without knocking into cupboards.
How and where doors will open is another key factor – both cupboard and room doors. You need to leave enough room for all doors to swing open without striking something that could cause damage. Also, if doors can't open fully, then you can't completely access the space within.
Use All Of The Space
Empty areas might be great in a bedroom or living room but in the kitchen you want to use every inch of available space. Examples of this are having the cupboards reach right to the ceiling. This gives you maximum storage space and also means there are no awkward little areas that collect dust on the top of the cupboard.
Every room has corners so factor these into the plans and avoid putting appliances in them. You can get lots of specially designed corner cupboards that use the space and keep the oven, fridge and other appliances in the centre of walls.
Consider The Tasks You Do
Think about your normal activities around the room and use these to help locate things. For example, keep the waste area near to where you prepare food so you don't have to carry rubbish across the room and risk dropping it. Look at where the sink is placed and make sure you can quickly move pots and pans to the cleaning area.
Also, think about the smaller features from this perspective. If you want to add a herb rack to the wall, then put it somewhere near where you would use the herbs. If you have a utensils rack that you would like to be wall-mounted, place it on a wall near the oven or food preparation area. This all means you don't need to move far to find the things you want and helps the flow of the room.
Remember The Electrics
The electrics in a kitchen are key because you need the right type of power points for different appliances. You then need plenty of sockets for smaller appliances to avoid trailing cables across benches. It is easy to forget this side of the renovation but it can be make or break your kitchen redesign.
Author Bio: Darren Lester is the owner of SpecifiedBy, a building material search comparison platform for architects and contractors.