The living room is one of the most important rooms in the house, because in it, we spend most of the evenings, to relax and to be in the company with our family.
For this reason, we need to focus on furniture of this room, which should be aesthetically pleasing (subjective characteristic) and comfortable.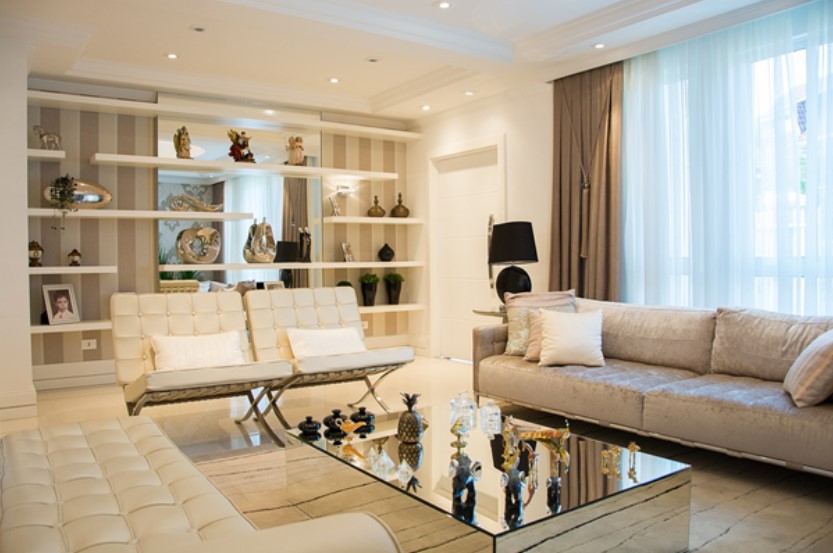 For the optimal choice of furniture it is important to consider the architectural lines of your home, outside and inside, the style of construction and the type of reception you want to give. A historic home is enhanced and becomes elegant and important with a classic decor with identifying elements such as desks, cabinets and walnut or cherry libraries, major armchairs, parquet flooring and marble, historical or refined decorative elements such as candlesticks, vases, carpets, tapestries and paintings. The classic interior has a timeless style that is embellished over time, but at the same time does not allow major changes to the environments. Another element to consider is the brightness of the rooms: if you prefer bright environments it is preferable to choose as basic style, the modern one that fills less space, being generally a type of minimal furnishings, unlike the classical style that prefers materials such as dark wood that hinders the light. Thankfully, today we tend to mix styles; in this way, may also be classic contemporary surroundings, as it may appear a modern environment, designed originally to be a classic, without forgetting the possibility of merging with other styles: contemporary, ethnic, minimal, industrial, etc.
One of the pieces of furniture that is the centerpiece of any living room is the sofa. The sofa has an important role both in terms of the beauty of your living room, but most of all should be comfortable and should give you the opportunity to rest and maybe, watching television, or drinking a glass of good wine with your guests. There are many kinds of sofa, it all depends by personal preference and the size that you need. For example, modern sofas, are generally very spacious, tendentially has 3, 4 or 5 places, and one of the most used materials for this kind of sofa is the leather or the echo-leather. Sometimes this sofa is designed to be transformed into a bed, which is very handy if we have guests and the house does not have a separate room. The classic sofa, instead, is characterized by rigid backrest and armrest but will add a touch of elegance to the entire room.
In conclusion, choose comfort, elegance and style and your living room will become an ideal place to relax and enjoy company.