Flooring materials should be considered at the outset so that you can assess their contribution to noise and energy insulation and make an allowance for their differing thicknesses. Different rooms will make different demands, so here are some tips to help you plan.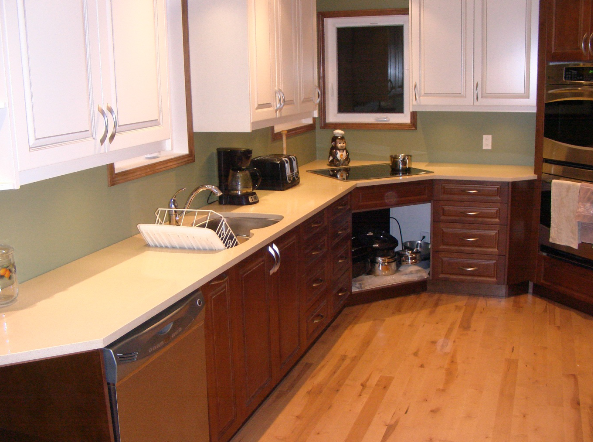 Kitchens and bathrooms.
Water and stain resistance is your main concern. Materials best avoided include carpet, which can also absorb odour, and cork, which may stain unless you apply a good sealant. Laminate flooring must also be sealed, as flood damage can cause issues. Good choices are vinyl, lino or ceramic tiles.
Bedrooms and upper hallways.
Sound insulation, warmth and softness are what matters here. Laminate flooring has been popular in all rooms in recent years; however, if you use it upstairs, you should use a good noise insulating underlay. Better still, construct your house with fully floated upper floors. Other options include carpet, cork or bamboo. If you can afford to, also consider rubber or leather.
Children's rooms or play areas.
You need an easy to clean flooring that is not too hard. Sealed cork or rubber are excellent choices for safety and warmth. Laminates, vinyl and bamboo are easy to clean if noise is not an issue.
Ground floor hallways.
These areas must resist wear and soiling. Ceramic tiles or polished concrete are worth considering. Carpet is good if made from fibres that are hard-wearing and dirt resistant.
Ecological sustainability.
A consideration for any modern build should be to ethically source its materials. Cork and bamboo are both eminently renewable resources and many carpet materials are natural and renewable, whilst others may contain plastic products that are not. It is important to buy from a supplier that clearly declares contents and test ratings, such as ukflooringdirect.co.uk/laminate-flooring/series-wood-8mm-laminate-flooring-lazio-oak.
Health and safety.
Your family's health is even more important than that of the environment. Some vinyls are made from recycled plastics and, laudable as this sounds, have been the most criticised for levels of toxic chemicals. Similar chemicals are found in other types of flooring and flooring adhesives, so check their ratings with your supplier.
European standards.
The CE marking is a requirement for any product sold within Europe and will tell you many valuable things, from how hard-wearing it is to the level of volatile chemicals.