Renovating the kitchen can be exciting as you consider all of the possibilities for transforming the heart of the home. Creating a more user-friendly space where it is easy to cook and comfortable to relax is generally the main purpose behind a kitchen renovation. The right flooring is essential to achieving these goals, but can also help you to establish a specific style and feel in your kitchen and even your home as a whole. There are many things that should be taken into consideration to help you select your perfect flooring.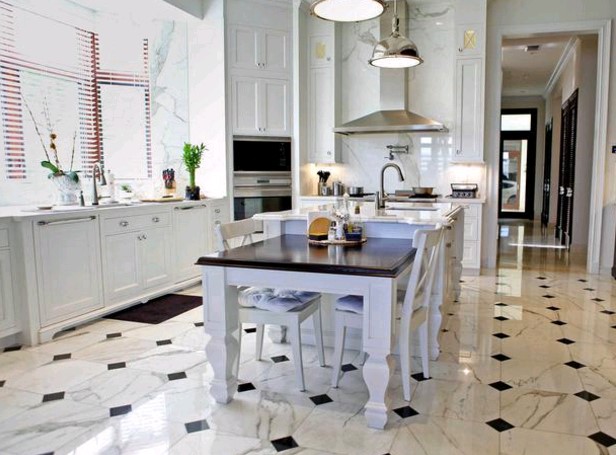 Photo: HGTV
Flooring Materials
There are several different flooring materials to choose from, including:
Tile
Laminate
Hardwood
Linoleum
Vinyl
Array of Choices
To narrow the search, it may be best to first select the material that fits best with your needs and then move on to selecting the colors and styles. For each type of flooring material, there is a vast array of different options to choose from. There are nearly limitless options to help you customize your kitchen to fit your needs and tastes exactly.
Resilience and Cleaning Ease
Since the kitchen is where most of the cooking and at least some of the eating gets done, it is highly likely that there will be spills, messes, and tracked grime. To save some headaches, it is best to select flooring that is very easy to clean and will not stain or otherwise be ruined by regularly being exposed to water and messes.
Durability and Life Expectancy
Once you have gone to the trouble to replace your kitchen floors, you want those floors to last as long as possible. Kitchens are often the area in the home with the most traffic, so be sure to select flooring that will not be easily scuffed or damaged by excessive use. If you are unsure about which styles of flooring are the most durable, consult an expert at your local flooring store.
Comfort
While tile is often thought of as the ideal material to use for kitchen floor, tile can be uncomfortable for those that stand on the kitchen floor many hours per day preparing meals. Over time, uncomfortable flooring may even take its toll on the legs, ankles, and feet, causing health issues.
Instead of tile, it may be better to consider wood flooring or other softer options for kitchens that are used daily for meal preparation. It can be difficult to recognize at a glance how hard or soft a type of flooring may be when it is installed, so expert opinions may be invaluable.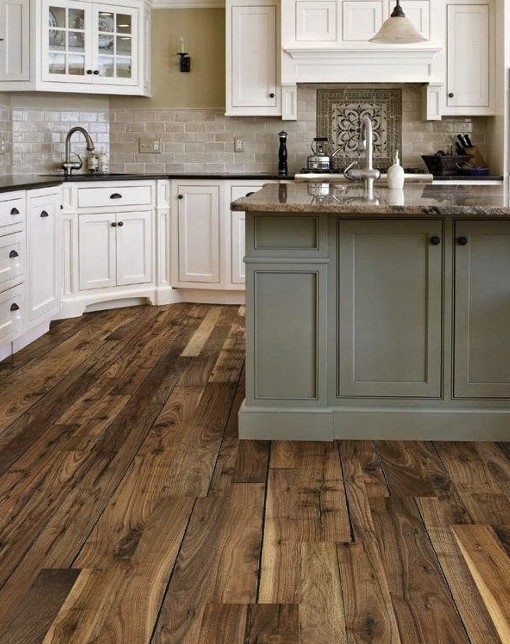 Photo: Hometalk.com
Style and Appearance
The color and patterns of the kitchen floor can make the room look rustic, homey, modern, elegant, or utilitarian. Make sure that you consider the color of the room and the other appliances so that the floor matches and compliments your other décor.
Budget
Many DIY home renovators underestimate how much it will cost to replace flooring. In order to get a realistic estimate, you should measure the floor and determine square footage, and then figure out how much the flooring of your dreams will cost. Make sure to take into consideration the cost for needs such as grout, underlayment, adhesive, needed tools, and anything else that may be required for installation.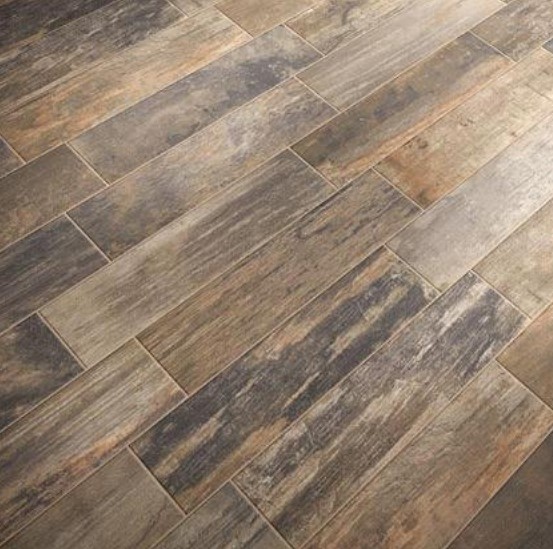 Photo: Prweb.com