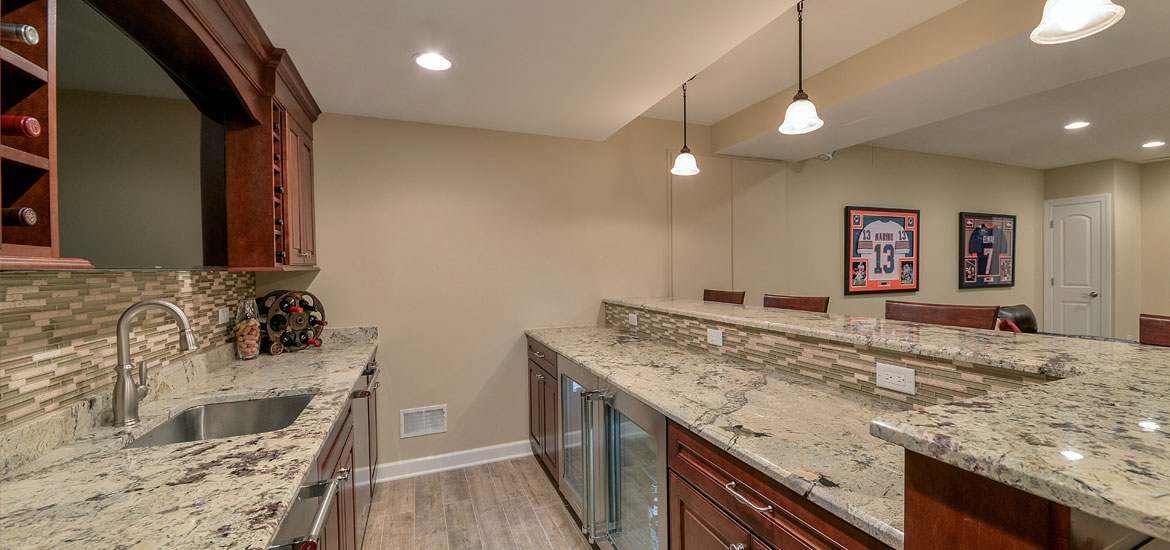 This article was written by Bryan Sebring of Sebring Services, located in Naperville. They provide basement finishing, kitchen remodeling, and bathroom renovation design-build services.
Are you itching to start on your next home improvement project? If so, may we suggest you consider remodeling your basement? This is often the most neglected space in the house, only used for old things, utilities and unused appliances. But with some work and creativity, it can be transformed into an amazingly beautiful and functional space.
The first step is to decide what you want to do with the basement. There are literally dozens of basement remodeling ideas. In our article, we have listed 45 ideas you can choose from. They range from a home gym to a kitchenette. A good idea is to consider what your biggest need currently is. If you often run out of space to houseguests, turn the basement into a guest bedroom. If you work from home, the basement is a much better location of a home office than the dining room.
Beyond any practical needs you may have, also be creative. Find something unique to turn your basement into. Some unique ideas include a game room, a home cinema, a bar, a personal collection museum, a music studio, an art and crafts room and so much more.
You then have to decide on the design and theme for the new room. Do you want a cool space, a homely room, a chic feeling or a vintage look? This will depend on what you are using the basement for and what your personal preferences are.
For the basement to be functional, there are various other issues that have to be considered too. For example, moisture can be quite problematic in basements. Without the right measures in place, the moisture can damage the walls, destroy furniture and even threaten the foundation stability of the house. This is therefore an issue you have to look at closely with the contractor. If there is a seepage problem, you might have to spend a significant portion of your budget on it.
You also need to think about safety, especially if you are going to turn the basement into a bedroom. Some local laws require that an egress window be built. You should also consider installing a smoke alarm and fire sprinklers.
Other important functional issues include insulation and ventilation.
A remodeled basement can make a big difference to your home and in most cases, it can even add value. Our comprehensive compilation of luxury basement remodeling ideas should give you some great ideas to get you started. Read the full article and see our compiled images at: Amazing Luxury Finished Basement Ideas.